News
"We're back with all five senses". The grand masters of Basque cuisine invite the public to San Sebastian Gastronomika 21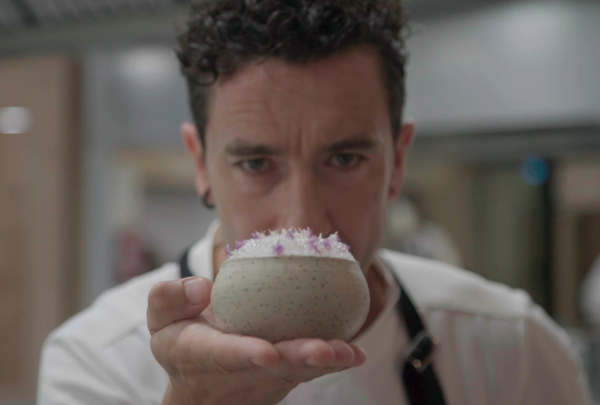 "Listen, look, taste, touch, smell". This is the invitation by Andoni Luis Aduriz, Eneko Atxa, Juan Mari and Elena Arzak, Pedro Subijana, Josean Alija, Hilario Arbelaitz and Martín Berasategui at the start of a promotional video for the next round of San Sebastian Gastronomika Euskadi Basque Country. From their restaurants, the grand masters of Basque cuisine call for a return to San Sebastian because "we want to meet up again", say Juan Mari and Elena Arzak; "we want to listen to you", adds the Mugaritz chef, and Pedro Subijana finishes off with "we want to share a dialogue between French cuisine and our own".

This is the message from eight Basque master chefs to promote the San Sebastián congress. Eight male and female chefs who will be back in a few weeks amid participants in the congress at the city's Kursaal building. Because the world's longest standing gastronomy congress is back in in situ mode from 14 to 17 November with talks, show cooking, activities and the usual networking in a re-encounter with the public and also with French culinary reality, one of the main themes for such a special occasion, in a programme packed with emotion and surprises.

The 23rd San Sebastián Gastronomika Euskadi Basque Country will focus on France, and usher in a new dialogue between cooking formats from both sides of the Pyrenees, 'Re-encounters'. This is the year of a re-encounter with San Sebastián and the Kursaal after a year's absence caused by the pandemic, a re-encounter with participants in the congress, and also a re-encounter between two of the world's leading cuisines. A congress ushering in a new dialogue between cooking formats from both sides of the Pyrenees, retrieving relations and a joint vision, rediscovering the French culinary reality. The most transformational concepts, new up-and-coming chefs and grand masters from both sides of the border will be at the Kursaal.

With open arms and a programme packed with surprises and emotion, San Sebastian Gastronomika-Euskadi Basque Country 2021 is back with leading chefs from all over the world. Marc Veyrat, Pierre Gagnaire, Guillaume Gomez, Alexandre Mazzia, Nadia Sammut, Beatriz González, Amandine Chaignot and Alain Dutournier are some of the French chefs who will be at the 23rd Gastronomika. As will Brazilian chef Alex Atala, and Virgilio Martínez from Peru. There will also be a large number of Spanish representatives, including Eneko Atxa, Ángel León, Pedro Subijana, Elena Arzak, Quique Dacosta, Jesús Sánchez, Paco Morales, Fran Martínez, Eduard Xatruch, Oriol Castro, Mateu Casañas, Josean Alija, Luis Valls, Hilario Arbelaitz and the French chef now living in Barcelona, Romain Fornell.

Magazine