News
"France is still our mother"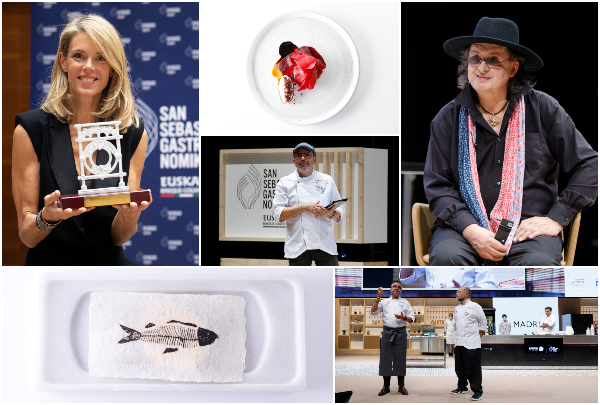 French influence on gastronomy continued as the main feature on the second day of San Sebastian Gastronomika – Euskadi Basque Country, which also featured Jesús Sánchez, Pedro Subijana, Jordi Butrón and Frédéric Bau. Tomorrow Gastronomika closes its 23rd congress with Joan Roca and Virgilio Martínez, among others.

Journalist Julie Andrieu, gastronomy critic and French television star, took the San Sebastian Gastronomika – Euskadi Basque Country Pau Albornà Gastronomy Journalism award on Tuesday. This was in recompense for her work all over France and part of the planet to discover the world's cookery and cultures and, to quote the previous winner, Ignacio Medina, "for talking in each programme about what we talk about nowadays in our kitchens; about produce, about producers, about respect, about sustainability and getting back a taste for cookery". She also won over the congress in a talk in praise of produce and popular cuisine.

"My objective" - she said - is "to make people talk about cooking". This can be understood either at the gastronomic level or the family level, although she is more interested in the latter: "I love talking about daily cooking, family cooking, which forms the basis of our culture". General applause, too, from Pedro Subijana and Juan Mari Arzak, faithful viewers of her programme, "Les Carnets de Julie". "My wife and I wouldn't miss one of them", said the man from Akelarre.

Nobody's looking for chefs with Michelin stars any more, just Top Chefs

Marc Veyrat (La Maison des Bois**, Plaisir) was at the congress on Tuesday, and did nothing to avoid controversy. The chef in the eternal black Savoie peasant's hat spoke in favour of the product, and against overexploitation of animals - "An animal can only produce two litres of milk, but now we make them produce up to 20 with fodder from Brazil or Argentina" - and dwelt on staff shortages, which is also a concern in France. "The problem is education and training. My daughter studied at a school, and when she arrived at the restaurant I realised she couldn't do anything. So I sent her to work with Ducasse". Another reason for staff shortages, according to Veyrat, is the hours, and also the failure to convey any passion for the profession. "Students go out, they want free time, and we have to adapt to that".

On the mandatory subject of Michelin, since he sued the guide for taking away one of his stars, he said "even though stars are very important, young people are losing interest in them. That is an evolution. Top Chef is what works, and that is the be all and end all. Nobody's looking for chefs with Michelin stars any more, just Top Chefs. It's an evolution caused by television and Internet".
 
The French influence, very much there

The French influence was still very much there thanks to the master cakemakers of Valrhona and Espaisucre, Frédéric Bau and Jordi Butrón, who entertained no doubts about the culture of confectionery. "France is still our mother". A comment followed by: "Although we might still be a little chauvinistic". Frédéric Bau, master cakemaker of Valrhona, and Jordi Butrón, creator of Espaisucre, shared their talk to compare confectionery cultures, and demonstrate that "flavour and passion unite us".

But both countries had their differences to start with. "It seemed that during the Spanish gastronomy boom France had petered out, and that's not true, and especially not in cakemaking. France is our mother, in everything", said the man who runs the world's first desserts restaurant. "Because it is, because Jordi, a Spaniard, not a Frenchman, who created the world's first desserts restaurant. As far as we know", said Bau. Empathy and anti-chauvinism.

Elena Arzak (Arzak***, San Sebastián), Hilario Arbelaitz (Zuberoa*, Oiartzun) and David de Jorge (Martín Berasategui***, Lasarte) discussed Butrón's idea at a round table, although they focused more on the savoury side of the menu. "For many years France trained generations of Spanish chefs, and we gazed at our neighbours in admiration, because this was where we went to learn the trade", said the man from Zuberoa. The others agreed. "I learned how to organise a kitchen in France", replied Arzak. The jury was still out, however, on whether this respect had waned in recent years. "There might still be some traces of 'killing off the father'", suggested Toni Massanés, head of the Alícia Foundation.

He had certainly not been killed off by Jesús Sánchez (Cenador de Amós***, Villaverde de Pontones, Cantabria), who learned to be a chef in Paris and Bordeaux, among other locations. "If we're discussing cuisine, France is still very much alive" - demonstrating this with two showcooked recipes he makes at Cenador de Amós, one featuring oysters and another with pigeon. With not an anchovy to be seen. The dessert produced at the end of the talk, however, was a little different: chocolate and anchovy. "We begin the menu with anchovy and we finish it with anchovy, the perfect halfway compromise between savoury and sweet".

The Matrix by Cabaña Buenavista

Pablo González Conejero gave a talk on the desserts on the new menu at Cabaña Buenavista** (El Palmar, Murcia), based on films in terms of both container and content (The Silence of the Lambs, A Clockwork Orange, The Postman Always Rings Twice and Charlie And The Chocolate Factory). Desserts and films to which diners gain admittance with one of two pills, "like in Matrix". "People are looking for an experience when they go to a gastronomy outlet, and that is what we do", said the man from Murcia.

The Tuesday session also featured Arnau Bosch (Can Bosch*, Cambrils, Tarragona); Paco Pérez (Miramar**, Llançà, Girona), who explained how he used lyophilisation to enhance the flavour of his recipes, and Fran Martínez (Maralba*, Almansa, Albacete) and Jesús Segura (Trivio*, Cuenca), the ambassadors of dry-land cuisine (wheat, maize etc.), who described how they use the circular economy to "eat up Castilla-La Mancha and gain territory". "And the best part is that all our restaurants in Castilla-La Mancha, although they have many things in common - sustainability, a large range of products, zero wastage - have their own special hallmarks", said the Cuenca chef.

Pedro Subijana (Akelarre***, San Sebastián) was also there, presenting this year's collection of apéritif snacks, a copious amount of them, but exquisitely elaborate, "because we discard over 90% of ideas for recipes because we feel the quality isn't good enough", and Nadia Sammut (La Fenière*, Cadenet, France), the first chef with a Michelin star for a gluten-free restaurant. The French lady revealed one of the major aspects: non-condimented cuisine. "I work with 'flavourless tastes' because I feel it's like silence, which leads to reflection and at the same time it leads in the music. Flavourless enhances what comes next", she explained.

The best Russian salad, in Málaga; the best apple tart, in Madrid

Tragatá (Ronda, Málaga) took the 4th National Russian Salad Championship award. It will not be leaving Málaga province because Tragatá is taking up the torch from the preceding winner Chinchín Puerto (Caleta de Vélez, Málaga), and from Candado Golf (Málaga), the winner in 2019. Carbón Negro (Madrid) won the 1st Spanish Apple Tart by Asturias Championship.

Tomorrow at Gastronomika

San Sebastian Gastronomika – Euskadi Basque Country rounds off its 23rd congress tomorrow with Paco Morales, Joan Roca or Virgilio Martínez. And the winners of the 12th National Grill Competition and the 2nd National Chickpea Championship.

Magazine