News
Pura Brasa takes the 2021 National Grill Competition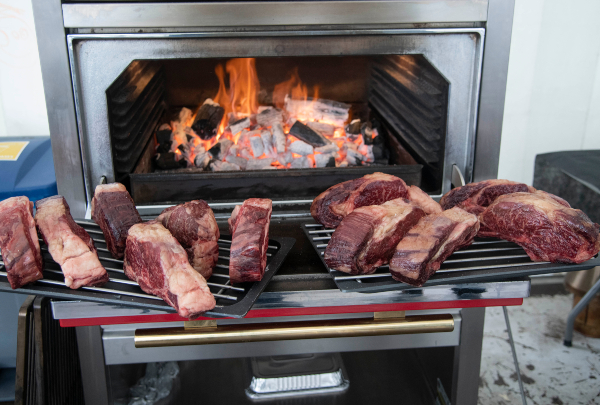 With Manu Yebras as grill master, the Pura Brasa restaurant (Barcelona) took the National Grill Competition with their "Beef on Food" meat.

This is the second time in twelve years that the winner has not been Basque. In 2016 the award went to Lomo Alto, another Barcelona restaurant.

The 12th National Grill Competition was held again at the Kursaal, in the wake of the special 2020 congress at Bodegas Hika (Villabona, Gipuzkoa) due to the circumstances of the pandemic.

The 12th National Grill Competition, San Sebastian Gastronomika – Euskadi Basque Country's most veteran contest, now has a winner. Barcelona restaurant Pura Brasa, headed up by grill master Manu Yegras, took the award with its "Beef on Food" meat, also declared the competition's finest. And so Pura Brasa takes over from Narru (San Sebastián), and Beef on Food takes over from Guikar, the respective winners in 2020.

The 12th National Grill Competition was held on Wednesday on the Kursaal terrace, back after last year's congress at Bodegas Hika in Villabona (Gipuzkoa). Early on in the day, next to the Cantabrian Sea, the eight Josper grills had been set up for the eight finalists to satisfy a jury panel composed of such personages as Pedro Subijana, Martin Berasategui, José Carlos Capel, Carlos Maribona, Amaya Ortuzar, Juan Atanasio Carrasco Gómez, Juanjo Arratibel, Nerea Ugarte and Julia Pérez.

The event was led by chef and showman David de Jorge, a grill enthusiast who livened up the competition and called on the panel to judge "one of the world's toughest professions". Following some discussion to assess the quality of the meat, cooking technique, texture and flavour, the jury came out in favour of Pura Brasa.

The Barcelona restaurant won through in the end against seven opponents, from various parts of the country. These were Asador Makatzeta (Arrazola, Bizkaia), with its Makro meat; Aldanondo Jatetxea (San Sebastián), with Goya; Saizar Sagardotegia (Usurbil, Gipuzkoa), with Discarlux; Cocotte (Pamplona), with meat from Cooperativa de Hostelería Navarra; Asador Iturrama (Pamplona), with its Tamaco meat; Essentia (Tarancón, Cuenca), with El Encinar de Humienta, and Asador Casa Azofra (Burgos), with Artecarne.

This is the second time in twelve years that the award has left the Basque Country. It was won in 2006 by another Barcelona restaurant: Lomo Alto.

Magazine