News
Seven three-starred Spaniards on the list of participants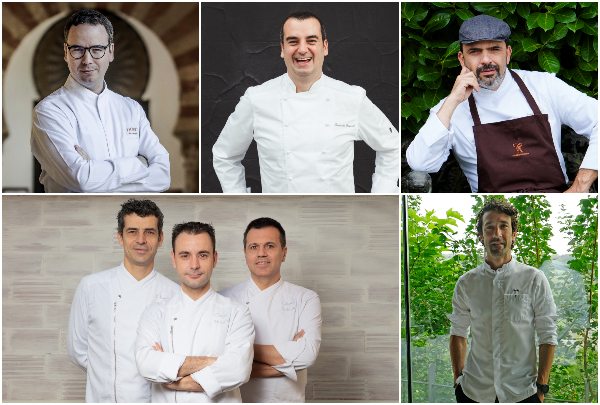 The list of Spanish participation in this edition of San Sebastian Gastronomika Euskadi Basque Country is also very extensive.

The list of Spanish guests at the next round of San Sebastian Gastronomika Euskadi Basque Country is also a long list, with many leading lights of international gastronomy. For example, Vizcaya chef Eneko Atxa (Azurmendi***), who also runs the Eneko restaurant under the parent restaurant, and another three in London, Tokyo and Lisbon. Atxa holds a total of five Michelin stars for his cookery of roots and poetry, revealing the sublime qualities of products with an aesthetic presentation on diners' plates. Nor can the event at the Kursaal fail to feature one of the most influential chefs of the last decade, Ángel León (Aponiente***), who holds the innate talent of those who move gastronomy forward and take it to spaces as yet largely unexplored, such as the sea.

The reunion at the Kursaal in San Sebastián will also include five of the Basque Country's leading chefs, Pedro Subijana (Akelarre ***), Juan Mari and Elena Arzak (Arzak***), Martín Berasategui (Berasategui***), Hilario Arbelaitz (Zuberoa*) and Josean Alija (Nerua*), some of whom are the fathers of New Basque Cuisine, and chefs who led Spain's initial gastronomic innovation, with close links to that relationship between Spanish and French cuisine addressed at Gastronomika, which will reunite legendary chefs from both sides of the border.

The event in San Sebastián will also feature Quique Dacosta (Restaurante Quique Dacosta***), another Spanish star on the international stage. His understanding of cookery in relation to his own territory is apparent in all of his recipes. In Dénia, London or Madrid, his cuisine is Mediterranean. He holds a total of five stars, two of them at El Poblet in Valencia, where the kitchen is run by Luis Valls, who will also be speaking at Gastronomika. Dacosta also runs MercatBar, Vuelve Carolina and Llisa Negra in Valencia, and Arros QD in London. His latest project is Deesa, at the Ritz in Madrid, where he operates the gastronomic offer of the Spanish capital's most emblematic hotel.

The list of three-starred Spaniards is rounded off by Jesús Sánchez (El Cenador de Amós***), a chef who has elevated Cantabria's gastronomy to dizzy heights at his restaurant in Villaverde de Pontones, located in a splendid natural architectural setting at an old 18th century manor house. He is now about to embark upon his new project, Amós, at the Villa Magna Hotel in Madrid.

Paco Morales (Noor**) will be another of the famous names at Gastronomika 2021.
With cuisine oozing personality and detailed, conscientious work, he has breathed life into a successful key project in a corner of Andalusia brimming over with history, Córdoba. History which Morales puts on plates. An unconventional chef with two Michelin stars, who also runs El Bar de Paco Morales in Córdoba.

The diversity of Spanish cuisine may be observed through Fran Martínez, (Maralba**), the chef who has succeeded in topping La Mancha's haute cuisine. Then we have a threesome of culinary magic and creativity from Disfrutar**, with Oriol Castro, Ferran Adrià's right-hand man for years at elBulli, and his two partners in the project, Eduard Xatruch and Mateu Casañas, who also cut their teeth as part of the team at the unrepeatable restaurant in Cala Montjoi. The congress will also feature Paco Pérez, the Catalan chef with the most Michelin stars, two at the Miramar in Llança and two more at the Enoteca restaurant at Barcelona's Hotel Arts, the chef representing haute cuisine from Alt Empordà, "mar d'amunt", or upper sea, as he likes to define the district of Girona in which he grew up.

From Tenerife to the Kursaal we have Erlantz Gorostiza, a disciple of Martín Berasategui and the chef that put the Canaries on the map of superior gastronomy at the MB Ritz-Carlton Abama, the only cook in the archipelago with two Michelin stars, in a constant defence of the quality and specificity of Canary Island produce.

There will also be a French representative among the chefs plying their trade here, as is the case of Romain Fornell. This chef, who was born in France but worked on his career in Barcelona, has been the disciple of major names such as Michel Sarran or Alain Ducasse, and is also the only French chef to have earned a Michelin star in France and also in Spain.

Magazine