News
Jesús Sánchez: "French cuisine is still really alive"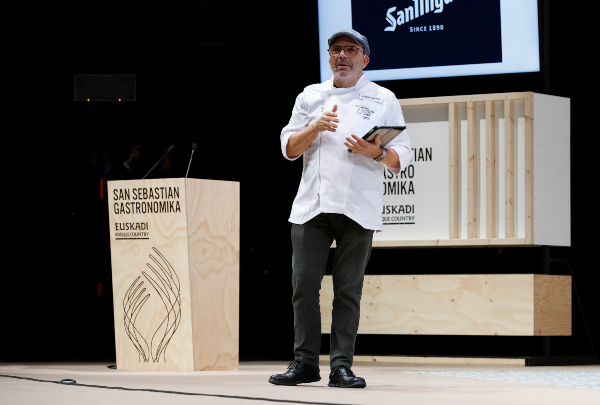 Born in Navarra, but settled in Cantabria for more than 20 years, Jesús Sánchez is the only chef in this community with three Michelin stars (Cenador de Amós***, Villaverde de Pontones, Cantabria). It was in Paris and Bordeaux where he shaped that French classicism that can still be perceived in his own cooking, although he also trained in various places in Spain. He talked about this in his presentation, for him France is still more alive than ever.

"Almost 40 years ago I decided to become a chef and 40 years ago France was at the forefront of chefs' minds. This congress aims to reestablish this link and pay this tribute. There's a strong French influence in my cooking, just as there is also the influence of Navarre or Cantabria where I have developed as a person and a chef", Jesús Sánchez explained to the audience in the congress Auditorium. And he added, "if we are talking about cooking it has to be said that France is still really alive".

Sánchez then introduced the two chefs who helped him on the stage: Bruno Didier and David Marsol, as well as Marina and Selena, who both work in the traditional craft of cleaning anchovies. Their presence was a way of paying homage to this craftwork. "Anchovies, together with oil and ham, are one of the most important products in gastronomy", the chef pointed out.

As a tribute to French cuisine and its legacy, Jesús prepared two recipes with two products that are highly representative of the French cookbook: oysters and pigeon. Both share a common denominator, they start with a liquefied raw vegetable that a sauce is added to. To back up his preparation of these two dishes, a video was shown on screen.

In the case of the oyster, a carrot was liquefied and white pickle was added. The result was used to daub the bottom of the dish. The oyster was lightly cooked and topped with a pickle that was a little more consistent than the previous one. Oil, marigold leaves, carrot flowers and a slice of this vegetable were added to all this.

Just as in the previous dish, the preparation of the pigeon was backed up by a video. On this occasion, a beetroot was liquified with the aim of imitating blood - an element closely linked to this bird. The pigeon juice was added to the liquefied blend. The mixture was used, just as in the previous dish, to daub the dish. They then added some dumplings made with the bird's legs, citric oil, cardamom and lemon grass. The pigeon was grilled and basted with butter flavoured with shallots. Once this dish was finished a second sitting took place: a cylinder of pigeon and beetroot.

Jesús Sánchez said that he was attracted to a Japanese tradition called yotaku. The practice comes from fishermen who liked to immortalise the lustrous pieces that they caught in a kind of impression of the fish itself. "We wanted to revive this tradition with anchovies, so our menu begins with a kind of eatable impression of this fish". Following this homage to this product, the presentation came to a close with an unusual dessert: chocolate and anchovy. "We make use of this to come full circle, we start the menu with anchovies and we finish it with anchovies", he announced, and added, "it's the perfect boundary between savoury and sweet flavours, you just have to try and find this balance".

Magazine