News
La Botica de Matapozuelos, home of the best dish of chickpeas in Spain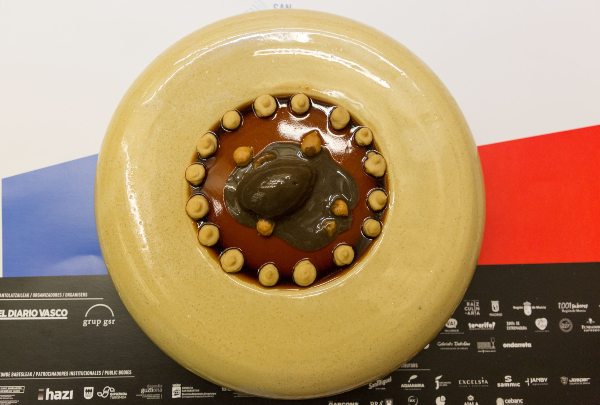 San Sebastian Gastronomika hosts the 2nd National Chickpea Championship – Tierra de Sabor, competition that seeks to vindicate the gastronomic potential of this versatile product from Castilla y León.

In the final, La Botica de Matapozuelos (Matapozuelos, Valladolid), led by chef Sergio Gómez, prevailed against seven colleagues from restaurants spread throughout Spain.

The Second National Chickpea Championship – Tierra de Sabor was seeking to crown the chef who presented the best dish prepared using this super product, looking to find the successor of Fierro from Valencia as the restaurant that best prepares a dish of chickpeas. And restaurant La Botica de Matapozuelos* (Matapozuelos, Valladolid), represented in the competition by chef Sergio Gómez was the winner.

He won with a sweet dish of chickpeas, in which they looked toasted, "a nod to village people. In the past there was no coffee and chickpeas were toasted to simulate it. That was the idea we drew from", remarked Gómez, "and with this idea he convinced the jury unanimously", replied its president Ignacio Medina. Also forming part of the jury was Benjamín Lana, Julian Mendez, Nicolas Armenteros, Nieves Caballero, Pilar Idoate, Guillermo Elejabeitia and Jean Luis Neichel.

La Botica has won the final against seven contenders. These were: Tapas 2.0 (Salamanca), Le Clandestin (Gaià, Barcelona), Gaig a Casa (Barcelona), Desgüaces La Torre (Torrejón de la Calzada, Madrid), Mesón Sabor Andaluz (Alcalá del Valle, Cádiz), El Fogón de Trifón (Madrid) and Pazo de Santa Cruz (Oza de dos Ríos, A Coruña).

They all had to cook a dish which was in their menus and constructed using the Fuentesaúco chickpea variety, whose EU Protected Geographical Indication rewards the exceptionality of this product, or Pedrosillano, protected by a Guarantee Mark. The dish presented could be cold or hot, salty or sweet, as it turned out, highlighting the culinary virtues of this legume species.

Magazine