News
The thousand faces of Paco Pérez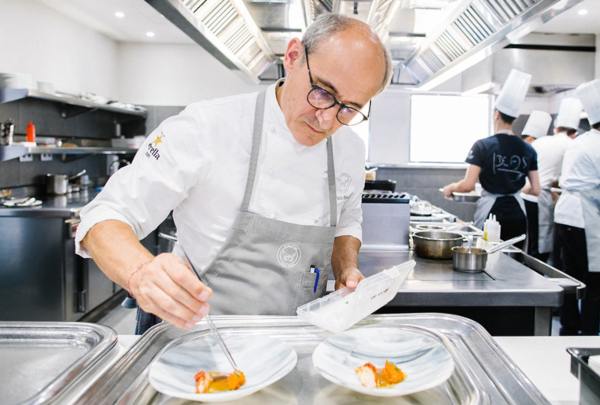 A low-profile, high level Chef, Paco Pérez is the Catalan chef with the second most Michelin stars, only behind Jordi Cruz. From his Miramar (Llançà, Girona) he runs a conglomerate of premises in Catalonia, Spain and Europe.

One of the major exponents of cutting-edge gastronomy in the XXI century always seems to keep a low profile. Although he doesn't avoid appearing in public, his appearances outside the restaurant are few and far between. It is there, at Miramar where his cooking is based on the sea and its local area (the Alt Empordà), that Paco Pérez is happy, and makes people happy. Season after season he convinces public and critics, without making any fuss or eye-catching headlines in the newspapers. He doesn't make any now either: "Despite all that we have suffered, it's been a great year. Since we opened, we have been working better than ever and it looks like the prospects are good". That is, he qualifies, how things have to be and are: "But let's just live in the present. The pandemic has told us that we have to live from one day to the next". We'll cross that bridge when we get there.

Even the book of proverbs is silent faced with a chef who must have a lot of problems when they ask him where he's from. He was born in Huelva (1962) but he's spent more than half of his life in Catalonia where he has put down professional and personal roots. It is said that he is the Catalan chef with the most stars and is only bettered, and that was last year, by Jordi Cruz (ABaC***, Angle** and A Tempo*, all of them now in Barcelona, by the way). Pérez has earned five. Let's review his macarones and update to October 2021 the business situation of one of the most restless chefs – regardless of whether he's Catalan, Andalusian or Turkish.

Paco Pérez the Michelin-starred chef

Apart from the two stars that his Miramar has (Llançà, Girona, restaurant and hotel that he manages together with his wife, Montse Serra, whose parents owned the original business), he has earned another two at the Enoteca in Barcelona. An establishment, by the way, that has survived the pandemic by opting for a local clientele ("Paco's Rice" on Sundays) that has survived and surprises people because of its location: at the luxurious Hotel Arts. The four stars that the chef has amassed are rounded off by the one that he earned in 2013 at the restaurant Cinco in the Das Stue hotel in Berlin, which is still closed at the moment.

Paco Pérez the traveller

He may well be an Andalusian, Catalan and/or Spanish chef, but he's a chef of the world. Apart from the German experience, Pérez also manages establishments in Poland (Arco by Paco Pérez, in Gdansk), where he adapts his Mediterranean philosophy to Polish nuances, or in England, where he opened in 2018 in Manchester with Pep Guardiola as a partner, Tast, a tribute to Catalan cuisine right in the heart of the UK. Yes, he likes to travel, and knows how to surroound himself with people.

Paco Pérez the thinker

He already liked it when he was young, when he crossed the Pyrenees to train with Michel Guèrard "because France is France", he now says. "France is a cradle of gastronomy. In its day it changed the forms and structures of cooking and took this to the highest level. It is enormously respected by all chefs", although nowadays not all young apprentices pass through its establishments. "Things have changed. Spain now has important kitchens where you can go and learn. In my time, 35 years ago, not so much. And in France they were doing different things then, just like we are doing here now". And in more places.

Paco Pérez the family man

Proof of this is Guillem Pérez, Paco and Montse's son. "I've got my children working with me", but only by chance due to the pandemic. "My daughter's an actress and she's helping at the moment, but after January she'll carry on with her own life. My son Guillem does work in dining (maternal genes… Montse Serra, his mother, is maître d' at Miramar), and he shortly wants to go and do an internship at Noma (Copenhagen, best restaurant in the world). And afterwards I think he wants to go off to India". The globalization of cuisine.

Paco Pérez the businessman

Let's go back to Paco himself. Having run through his international side and Michelin stars, Paco Pérez is keeping in good shape nationally and continues to enjoy himself given the different types of restaurants and bars that he runs and has run in the last 20 years, almost always with partners. Near to his headquarters, the chef directs the cooking at the different Grup Peralada businesses which include Shiro, a pop up located in the gardens of El Castell de Peralada, and L'Olivera, the restaurant at the hotel Peralada 5*. In Barcelona, Pérez now runs Chickoa, a roast chicken joint, and La Burguesa, offering gourmet burgers. In the Catalan capital he also embarked on adventures at L'Eggs, Bao Bar and La Royale, projects that he has ended up cutting all his ties with.

Outside Catalonia, the chef from Huelva has his two most recent establishments: the tapas bar Al Lado, opened in 2019 in the EME Catedral Mercer Hotel in Seville, and Marao, a casual-style marine concept located in the Senator Spa Hotel in Gandía that has seen the light in 2021.

Yes, Paco Pérez takes things from day to day and always lives for the present as far as gastronomy is concerned: Paco Pérez the chef.

Magazine