News
Nadia Sammut: "One can change the world if one changes one's own"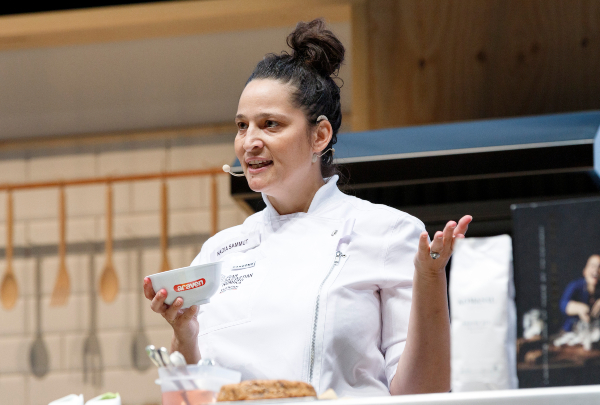 Nadia Sammut, chef in La Fenière (Cadenet, Francia) the first woman gluten-free Michelin star chef, based on the Cuisine Libre® (Free Cuisine). This way of understanding her profession proposes healthy and environmentally friendly food contributing to change the way in which we live, think and eat.

Nadia Sammut was diagnosed as celiac and lactose intolerant at a very early age, but what, at first, was an obstacle in her life turned into a global project which understands the gastronomic experience not only as the act of eating, but also, as a way of thinking, understanding life and of social awareness. "What I do is raise people's level of thinking and food awareness. In my restaurant, I offer a deep experience devised with elements which add subtlety and sensitivity", she asserts. And adds, "Our area of work goes beyond gastronomy and there is still much work to do. At home we have a farm in which we practice soil regeneration agriculture, we work with producers… and therefore, what the diner receives on the dish contains a story, a message. We not only feed ourselves with food but also from the culture included in the global food experience".

Sammut explains that, in her restaurant, she doesn't try to combine many flavours but seeks to "initiate a simple journey so that the diner's body receives it and feels how it regenerates the diner. This regeneration goes beyond health, it is life".

One of the ingredients she has most worked with is chickpeas, because growing them requires little water and work in the field, resulting in a lower environmental impact. In addition, Nadia points out that she has her own mill in which she creates her own flours more than to substitute them for wheat in order to create new experiences.

Another aspect she highlights is cooking without salt. "I work with a 'saltless flavours' because I consider it like silence, which inviting you to think and in turn allowing the music to begin. A saltless flavour enhances what comes later. It's the first note of the festival. My menu starts this way", she points out. And adds, "it's a cuisine which seeks to be deep, subtle and sensitive".

Nadia's cuisine doesn't just stop at with "gluten free" label, since her cuisine is a global food project in which each diner is unique, with preferences and tastes. Her objective is to create a world "with a better flavour", the DNA of which includes respect, tolerance, pleasure, precision, harmony and balance. "Ten years ago, I overcame my disease and now I have created my foundation to help demonstrate that the world can change if one changes one's own".

Magazine