Interview
Miguel Warren:" We sell closeness, happiness. We lost these things in the lockdown, but we'll soon restore them"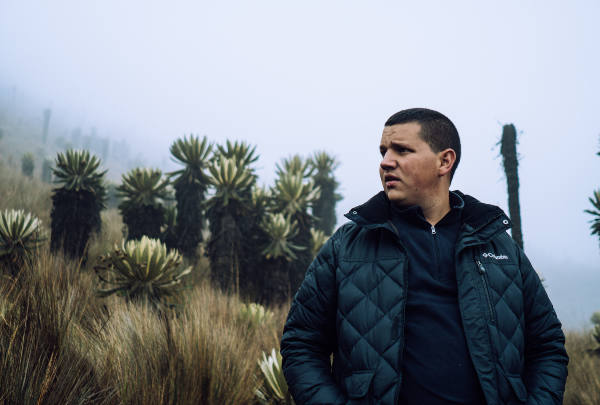 Colombia is one of the most interesting culinary reference points at the present time where Miguel Warren –breakthrough chef at Bogotá Madrid Fusión and born in Medellín- advocates a cuisine that reflects the diversity of his country in an experience in which all the potential that it has is made quite clear. We've spoken to him.
They say that you're one of the young chefs that have given a boost to m and I have done our bit to achieve the joint aim of raising the profile of Colombia and its extraordinary potential. We have always started out from the basic idea of thinking and doing things differently and I think that this means that we have managed to provide the inspiration to ensure that this boost doesn't lose its momentum.

Define your cooking

Our cooking is purist and concerned with understanding its local environment, not as a trend but as a unique, invaluable process that allows us to obtain just one thing: good produce. We concluded, once we had achieved this, that cooking was all about intervening as little as possible in the product, but to do so coherently and creatively, in order to show all the work that lies behind it.

It mustn't have been easy to launch a project like yours in Medellín…
No, it wasn't. On the one hand we are an innovative city that has made a lot of progress, but gastronomically speaking we are only just waking up. Little by little we are starting to believe more in the value that our culture has and still don't properly appreciate our natural riches as our own. Winning over the local public is our greatest challenge and is what has proved to be most difficult for us.
On the other hand, we are lucky to be where we are as we are very close to uplands, jungles, mountains and the Pacific Ocean. Landscapes and places that open up a magical world that utterly amazes us.

They say that travelling to remote areas in your country has enabled you to appreciate the cultural impact that each product has on people in the different regions of Colombia. And that the information you gathered was vital in the creative process at your restaurant, Barcal.
Understanding our local region is an insurmountable challenge that we are pushing ahead with; there are millions of products, hundreds of different cultures, climates and landscapes that mean we are labeled as being diverse.
We have tried to learn as much as we possibly can from the people that are out there producing and looking after our food from day to day, and we emerged from all this on the one hand with our heads full of ideas, and on the other really impressed by how difficult and strenuous the work they do is.
Travelling, testing, understanding and compiling what we found were definitely and will provide the bases for our restaurant and of course we take our philosophy and reinforce our creative process from this.
We are small, but we are convinced of the contribution that our work may make to enhancing and raising the profile of working on the land and the importance of produce, which is where a large part of our cultural value can be found.

Your restaurant has been one of the victims of the coronavirus. What will the next step be? Are you planning a new project? What will it consist of?

We decided to close for a while and take refuge while the crisis passes. We finished with Barcal as a physical space and decided to take advantage of this period to think about new ideas, new ways of doing things and new spaces.
At the present time, when everything points towards a clearer horizon, we decided to take the first steps. We are thinking about the Barcal that we have always dreamed of and we have embarked on the task of trying to find an ideal spot well away from the city where the pure air will provide us with fresh goals.
We want to enjoy catering and haute cuisine as much as possible so we plan to open for only 2 or 3 days to concentrate the magic and spend the rest of the week carrying out research and developing certain projects that focus on the creative industry that we are really excited about.

What is the current situation like for the restaurant sector given the circumstances? And, how do you see its future?

Things clearly haven't been easy for our sector or for any in general; the current situation is complex especially for a sector that lives from one day to the next. There have been a lot of closures and what this involves in the production chain means that getting things back to normal is slow, but I'm a natural optimist. We sell pleasure, closeness, and happiness and we lost all these things in the lockdown, we'll soon be ready to restore them.

Do you feel that the coronavirus has taught us anything?
Of course, we are much more fragile than we thought. As a society I think we have learnt more than ever to appreciate those everyday things that seemed to be a fact of life. We have learnt to appreciate the present, to think about and enjoy the here and now. This teaches us some important lessons and also reinforces our sector in the future as we have learnt that happiness shouldn't be deferred.

For years now people have been fighting to make Colombia known not just for its past but also for its gastronomy. We presume that the coronavirus has brought all this to a halt, but which were the projects that were working along these lines?
A great many projects were working and are working to highlight our gastronomy; the sector has gradually woken up and has been creating some really interesting proposals. Leo in Bogotá is definitely our mentor, has charted a thrilling and really commendable course, to bring to light the diversity of Colombia and its people, and even in difficult violent periods showed another side of our country with great passion and knowledge. Celele in Cartagena shows the hidden treasures of the Caribbean and promotes the riches of this region; Sambombi in Medellín has constantly worked to stress the value of local produce by producing honest, modern food. I could mention many more, but what is interesting here is to see the movement and how they approach things , in which together we believe that, through farming, fishing, and support for producers and communities we will create an economy with a stronger culture and know-how.
Rather than struggling to change the past, we are fighting to achieve the potential of this marvelous country where the possibilities are endless.

In the restaurant business sector, we can find chefs who work or have worked at the same time in social projects. Mainly in recovering products and recipes; in supporting producers; in the reintegration of people at risk of exclusion, in replacing the growing of coca by other crops, in respect for the environment or in curbing the deforestation of the Amazon. Have you been involved in any of them?

Of course, there is a movement to raise awareness about this that is rousing itself; despite being small and not being able to reach everywhere that we'd like, we have established ever-stronger links with producers who not only provide us with top-quality produce but are also the people who are in the fields replacing illegal crops with legal ones, searching for opportunities and know-how, caring for our ecosystems and promoting our culture.
By setting ourselves two goals: to cook while underlining what we have in our larder and searching for quality produce, in our country, it is impossible not to be involved in these activities since, as I always say, we are not researching and travelling to follow trends or fashions, we are doing it because the quality that we are thrilled to serve is out there.
We work in timely fashion to highlight the economic value of produce, not just by making direct purchases but also by sharing knowledge of processes, qualities and marketing methods, and by doing this we demand quality for us, but we also increase the benefit for the producer; this improves the socio-economic level of the countryside little by little and this is where the value chain that we promote begins.

Magazine