News
Alexandre Mazzia: "Cooking is the story of my life"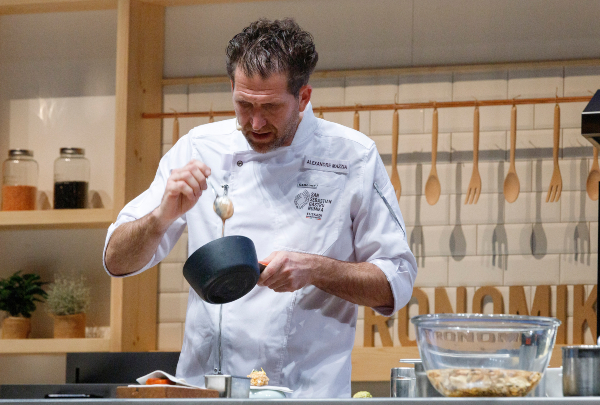 Alexandre Mazzia, from the AM restaurant (Marseilles, France), explains how his experience of life has influenced a cuisine that is nurtured and inspired by his childhood in the Congo.

"I was born in the Congo and this has left some very important memories in my life and in my vision of gastronomy. This is what I want to share with you: the inner journey that I went on", Alexandre Mazzia announces after confessing that he is really pleased to be taking part in the Congress this year. This is an unusual vision that is reflected in the presentation of the menu. "We don't have any menus, but pricing divided into short, medium-length and long journeys. We usually start with raw fish because my grandfather was a fisherman".

Throughout his presentation Mazzia presents what he defines as sequences, compositions made up of various little snacks that can be tasted with your hands. These are little snacks in which we can find -often- a series of textures. "I like to have different textures and flavours of the same product and I achieve this with the cooking", he claims.

He confesses that, although he uses olive oil, what he gets most mileage out of as far as gastronomy is concerned are types of clarified butter. He currently has up to 20 kinds of butter clarified with products like oysters or orange blossom and he uses one for each cooking time. "This is what is going to give me different nuances in each dish", he points out. One of his butters is the one that he uses to make his unique bread. "We don't offer standard bread, but a vegetable bread that includes cumin, ginger and butter with salt", he says.

Alexandre explains that in everything that he prepares such as, for example, in the cream of carrot soup, natural products are always used that are cooked in their own juices to achieve greater depth and subtlety: two characteristics that are very important in his cooking.

Among the little dishes that he presents in the Auditorium are red shrimp with various cooking times, a beurre blanc with saffron and coffee, plankton, chili jelly, smoked cauliflower, avocado with clarified coffee butter, roast chicken skin, fermented carrot milk with ripe peppers, brioche stuffed with marinated sardines and a chicken consommé infusion with oyster shells.

Mazzia closes by saying "I like the special touch that many products give the dishes as they remind me of Africa. What you have seen is a brief overview of my story because cooking is my life".

Magazine