News
Juanlu Fernández: "I can cook a dish from Les Landes with a recipe by my grandmother"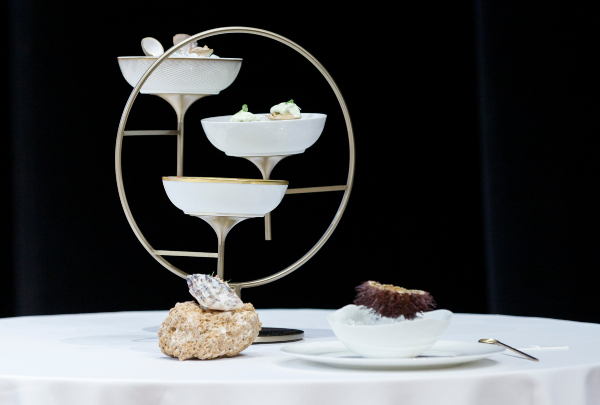 The chef from Cadiz shows how at Lú, Cocina y Alma he combines the two gastronomic cultures that he feels part of –Andalusian and French – by preparing three dishes with local produce and a universal concept. And the other way round.
This Tuesday the chef at Lú, Cocina y Alma* (Jerez de la Frontera, Cadiz) has shown at Gastronomika, by preparing three dishes, how he understands the French influence that he doesn't hide in his cooking. "Lú combines my two cultures: the French and the Andalusian one". Because, although he was born in Jerez, and having been raised gastronomically with Martín Berasategui, and mainly, with Ángel León, Fernández is an avowed admirer of French philosophy, "understanding that this is much more than stocks and sauces".

"I think –he explained-, that France is a way of understanding gastronomy. It's about respecting produce, trying to find the perfect cooking techniques. It's about not rushing with broths". Fernández championed French culture, which he interprets without having to follow a specific pattern when it comes to preparing a dish. "I can cook a dish from Les Landes with a recipe by my grandmother. No problem. I have two really rich gastronomic cultures, each in its own terrain".

To show this mix of cultures that he experiences at Lú, the chef prepared and explained a platter of oysters, sea bass in "Piriñaca" and pickled partridge. He started with the platter that he offers as a first aperitif, "that aims to resemble the typical one you find in an oyster bar in Paris". He fills it with razor clams, which he keeps for a day in the freezer and that he adds a sauce Grenobloise to; gherkins, on a shell with green pepper foam, and white vinegar and Sherry vinegar; cockles, injected with mignonette sauce, "a sauce that is a must at an oyster bar; a Royale with sea urchins and milk caps parboiled with the water from the sea urchins, and oysters, which in this case are present through an emulsion that accompanies caviar and fried quinoa "to provide a crunchy touch".

"It's our version of an oyster tower that is typical of Paris, in which we introduce local produce and French techniques, in which we show what we are as an introduction", the chef explained. Seafood and sauces. Paris, France and Andalusia.

Having got our bearings, Fernández rounded off his presentation with what could be a deconstruction of a typical dish from Cadiz like Mackerel in "Piriñaca" replacing the mackerel with Aquanaria sea bass; it is salted, cold-smoked and cooked with vine shoots and ice on the bottom. "We don't want any cooking. Just for the fibre to disappear", he explained. For the "Piriñaca" (originally tomato, onion, red pepper, Green pepper, sherry vinegar, salt and oil) he ferments and emulsifies all the ingredients except for the tomato, which he cooks and hydrates separately. Afterwards, these, as well as the tomato, accompany on the side a dish with large pieces of sea bass.

The final dish also referred to France and Andalusia: pickled partridge. "Here what I wanted was a clash of textures and cooking techniques, so we worked individually on the different parts of the animal": the thigh in a pickle that looks like a Gazpachuelo soup; the marinated tenderloin, and the short-salted breast.

Vive l'Andalousie!

Magazine