News
Josean Alija begins the presentations at Gastronomika 21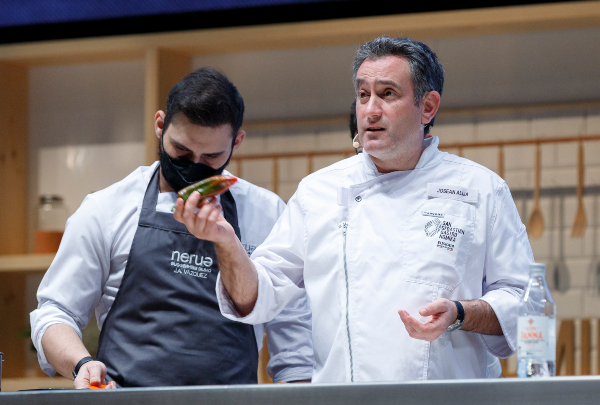 Territoriality and Josean Alija's "desire to have fun" have opened the presentations at San Sebastian Gastronomika – Euskadi Basque Country 2021. Three days and more than 30 hours of activity lie ahead in the auditorium to get an idea of the current state of Spanish and French cuisines.
Josean Alija, the Basque chef and member of the Congress Technical Committee, has opened the activity this morning in the auditorium at San Sebastian Gastronomika – Euskadi Basque Country 2021 with a presentation in which he has once again spoken about "simplicity, flavor and taste. About communicating with very few items, what Nerua" is all about, although as this coincides with the 10th anniversary of the restaurant, he explained, "we have varied our cuisine a little bit. Although it is still based on produce, essence and seasonality, it now stresses having fun, it is more accessible and it encourages you to enjoy it by sharing, Alija explained.

He demonstrated this with a white asparagus omelette, kokotxas (cheeks) and tempered courgette flowers, "a dish we used to make in small portions and that we have now expanded to share", a dish that, he acknowledged, recalls Sacha's "lazy" omelette. Alija has also prepared "products that refer to our surroundings" like the choricero pepper from Erandio, that caramelizes on its own in its own roasting juice -"A loudspeaker for our terroir", he explained-; the thistle in black sauce with sea urchin -"We like the textures of the vegetables"- or the artichoke broth, with mushrooms and foie.

All these are "simple and tasty" dishes, dishes with broths and stocks "in which we distill our dreams". Because Nerua will change; stocks and produce will continue to be his watchword.

Magazine