News
The French geniuses who inspired Joan Roca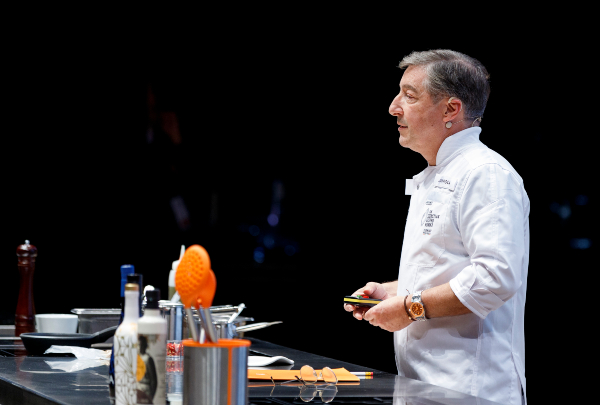 The man from El Celler de Can Roca looked back at the French chefs and logics that influenced him most during his career, and cooked three recipes from his current menu with French reminiscences. As a "talk of homage".

"This is a talk of homage. Our homage to the cuisine that taught us, and made us professionals", Joan Roca began at San Sebastian Gastronomika. Because "when we were starting out in the 80s, both Pitu and I were looking over at France". At French cuisine in general, and some names in particular, which the chef at El Celler de Can Roca*** (Girona) specified:

Jacques Pic
"At the end of the 80s, Pitu and I travelled to Valence to eat in Pic. It was the first grand French restaurant we had visited, and we were impressed and inspired by the concept of its grandness. It was then that we said: That's the way we have to go".

Georges Blanc
"I did a "stage" with Blanc in 1991. At that time he was vacuum-cooking broiler breasts. I noticed that the result was interesting, but that it could be better, and that's where the roner device came from years later. I was also impressed by Blanc's amazing crew. It was a great place".

Michel Guérard
"I was inspired by his books. I visited him several times, and we're still in touch. My son wants to be a chef, and during a visit he fell in love with Michel's personality and passion".

Frédy Girardet
"His book on spontaneous cooking was important to my career".

Pierre and Jean Troisgros
"César Troisgros, Pierre's grandson, did a stage at El Celler recently. And that's something we value more than an award. It was an honour. And the Troisgros were an incredible source of inspiration. They were brothers and they worked together, so there was a kind of parallelism with us. They were the first to vacuum-cook foie".

Joël Robuchon
"His books, his restaurants, the way he understands cookery, his meticulous work. He has inspired us so much. Even more so when we made our first "royale" hare.

Pierre Gagnaire
"I was impressed by his first restaurant. That astounding creativity at the time, which he still has. A continuous source of inspiration".

Michel Trama
"We've all used those apple crunches. We learned how to caramelise slivers of fruit from him".

Alain Chapel
"I remember his books, where he explained why cookery is much more than just recipes".

Michel Bras
"He impressed everyone, but especially Jordi. He reinterpreted that style with his "Anarquía", which is similar to the vegetable "gargouillou".

Alain Senderens
"Pitu noticed how Senderens was inspired by wines to create his recipes. His wine-cuisine connection was vital".

After his comments on the chefs, Roca continued to praise French cuisine for its books ("I recommend books, French or not, because not everything is on Internet", he said), before cooking some of the recipes he had been influenced by.

First up was a low-temperature broiler brioche, "where the brioche has not just an aesthetic function, but also a practical function, because its fermentate maintains the temperature of the filling". This was followed by a version of sole meunière, with the loins vacuum-cooked and some grilling, and a mille-feuille of celeriac, pear and buckwheat, and also slivers of oven-roasted pear "with a format and process similar to Alain Ducasse's puff pastry brioche". "Yes, France has inspired us".

Magazine