Interview
Jesús Sánchez: "I belong to the generation that looked to France in fascination"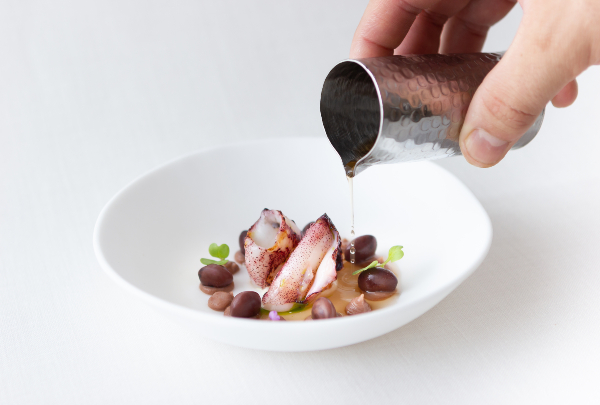 The latest three-star Iberian chef could not miss out on the next Gastronomika congress.
Jesús Sánchez (Cenador de Amós - no definite article preceding-, Villaverde de Pontones, Cantabria) served his time as a young man in the kitchens of Madrid and Sevilla, and also in gastronomy temples across the border in France - the guest country at the congress - where this man from Navarra picked up the basics and his inspiration. The muses have spoken to him in French, but mostly in the Spanish of the Cantabrian coastline for the last 30 years: in 1993 he opened Cenador de Amós barely 20 km from Santander, and with the passage of time he became one of the main ambassadors of the region they call "la tierruca".

He will shortly be giving this a boost when he opens Amós in Madrid, a restaurant "seeking consolidation as a leading haute cuisine outlet in the capital with recipes that have accompanied us on our journey, and have been reinterpreted for the occasion". And so Amós will help consolidate Madrid and Spain as gastronomy destinations "even though we might not lead the pack in a hypothetical ranking of international cookery presence around the world". "The leaders would be France, Italy, Japan, Peru, Mexico ...". We listen to Sánchez, and also when he almost falls for it commenting on his cap, his anchovies or the Michelin star betting odds. He must have insider information …

When is Amós Madrid finally opening?

I can't confirm that. It's a new restaurant built from scratch, and so the work and the timelines always stretch out a tad. I hope it'll be open by the first week in November. The entire crew is looking forward to it very much.

Amós will be a restaurant with a bar menu. How will that work?

Amós is an everyday restaurant with a comfortable atmosphere and fine service. We're inspired by the territory of Cantabria, and our main pantry is the area around the Cantabrian Sea. And also for the bar, which will seat eight, with a different menu, with stews, always in two phases, and also tapas, larger rations and cheeses.

Is Amós after a star? Is the idea to take the Cenador's cuisine to the capital? A second brand?

Amós will have its own personality, and its proximity to Cenador de Amós may be found in recipes that have accompanied us on our journey, and have been reinterpreted for the occasion. These days we aren't star-gazing, but we aren't staring down at the floor either. We're gazing at the horizon, a horizon where we would like to consolidate ourselves as a leading haute cuisine outlet in Madrid.

How was the year 2020 at Cenador de Amós? How's 2021 going? What are the prospects for 2022?

If I described the year 2020 I could well start in with a few clichés which would add very little to what a lot of people have already discussed and shared. The downside, in addition to the misfortunes and dramas around us, was the lack of contact with our crew. And also the fact that we thought it was our year after we were awarded a third star. The upside was that we had more time to reflect and share with the family. In my case, with my wife and my daughters ... 2021 kicked off with uncertainty, and it was quite some time before any positive prospects emerged. The situation now has given us some hope for 2022.

What's left in Jesús Sánchez today from his past in Paris or Bordeaux?

There was a time when we looked to France in fascination and admiration. I belong to that generation. And the Basque Country too. And not just the kitchen, but the dining room too. French cuisine and dining room service have always been closely linked, setting the style and acting as a reference. After I left the Madrid Catering School, my dream was to eventually work in France. And I did that at the Jacques Cagna** restaurant (Paris), and I was also the first Spanish chef to work there. In fact, when Marian and I got married, our honeymoon was based on visits to Robuchon, Guy Savoy, Alain Ducasse, Jacques Cagna, Fermin Arrambide, Ithurria …

How much does Spanish cuisine owe to French cuisine?

To tell the truth, it's difficult to move forward without any references. When you have a neighbour that's a leading light, and you live in a country alive with concerns and talent, you move forward sooner or later. I think we should feel very proud of the tremendous progress we've made. And of the fact that our progress has inspired others.

Are young Spanish chefs still going to work in French restaurants? Has France lost that hegemony?

I think we should never lose sight of France. If a young chef asked me for advice - something I don't like - I'd tell him to go to France if he gets the chance. France is still France, even though here we often boast about being the world's leading culinary reference. Self-esteem is all well and good, but I think that, in a hypothetical ranking of international cookery presence around the world, we wouldn't be leading the pack. It's here that our cooking is appreciated most. Maybe it hasn't been exported properly. If a luxury cruiser, by way of an example, lays on four gastronomic experiences for its passengers, it's quite likely that none of them would be based on Spanish cuisine. But France, Italy, Japan, Peru and Mexico would certainly be on the list.

Fortunately, it also has to be said that there are personal efforts, crusades, almost, which tip the scales towards us, such as the work of José Andrés, a huge ambassador of our cooking in the US, and many others such as Eneko, Martín, Dani, Quique ... We mustn't lose sight of people who have been getting it right for a long time now. And we have to go on working, because this is a long path to be trodden by talented, business-orientated chefs.

You'll be at Gastronomika 21. What will your talk be about?

I'll be explaining our truth, or at least I'll try to. Cenador de Amós nowadays is very similar to what it was 28 years ago. It's just more Cantabrian now. There was a time when I'd have killed to get on a stage. Chefs are ruled by our egos. Madrid Fusión, San Sebastián Gastronomika … I haven't been in at the sharp end much, and that's also because they didn't contact me much. I like the peace and quiet of the Cenador restaurant, working with my crew, the creativity meetings ... That said, I'm delighted to be involved in this Gastronomika, and even more so to explain the French inspiration that accompanies me along with Navarra, and the influence, expression and communion of my Cantabrian cuisine.

What do anchovies mean to you? Has it always been the starter on the Cenador restaurant's menus?

To quote the illustrious Don Rafael García Santos, the anchovy, along with Iberian ham and olive oil, is one of our country's three greatest products. And the world's best anchovies are served up in Cantabria. It's our fetish product. It will be a major feature at the San Sebastian Gastronomika event, and we'll finish off with a tribute to the anchovy with David Gil's creative crew.

Would you be the same and would the Cenador restaurant be the same without Marián?

Absolutely not. I was so lucky to meet up with this enormous woman during my professional career, with whom I've shared 28 years of a life project during which, as you can imagine, has given us our share of ups and downs. We've had time to laugh, celebrate, feel, share, dream ... and even weep. Luckily for me, we've always done it together.

Cenador is the latest Spanish three-star establishment. As an insider, can you tell us what's going to happen on 14 December?

Well, we'll meet up again, because we miss the ceremonies, we'll be together again, and we'll hug each other. And I'm sorry to tell you that I'm no insider. I think there are 31 restaurants with two Michelin stars that have been nominated for three stars. I think it'll be a very special event because, unfortunately, we'll have quite a few absences, but that will be mitigated by the new one-stars and two-stars, and we hope there'll be the odd three-star. That would be fantastic.

You've always explained how you forged ahead on the path to the three stars, and how you motivated your crew to do that. Once you've earned them, how do the new challenges emerge?

The challenge is to get to Valencia (the venue for the Spain & Portugal 2022 Michelin Guide), and find out that you still feature in the next edition. And see that people who visit you and trust Michelin's judgment leave with their expectations fulfilled.

Since you're not going to fall for it, one last thing: Why do you always wear a beret?

Ha-ha-ha ... to hide my bald patch.

Magazine