News
Isaac McHale, raw produce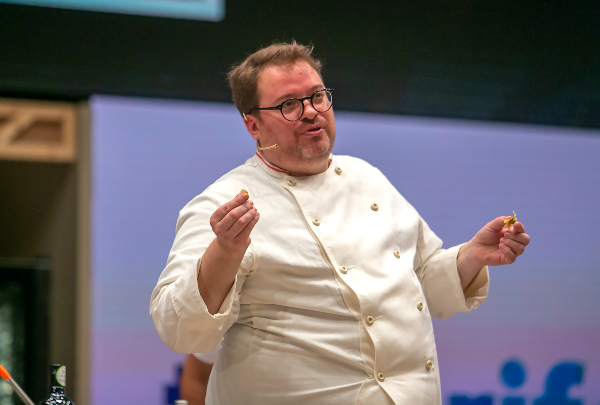 Scottish chef Isaac McHale from The Clove Club (London) is back at San Sebastian Gastronomika nine years on, to showcook two of his best recipes.

"When I started out I thought I would be a very technical chef, but after a while I realised that the most important factor was the ingredients, the little details. So today I've brought along two of my best recipes - I think. And since electricity costs so much now, they're raw recipes", explained Isaac. Sardines and scallops, which he claims are excellent in his neck of the woods, were the main features.

The first recipe was a version of a sardine niguiri, with potato instead of rice. This was inspired by a trip McHale made to Japan, when he met a sushi man who offered him some of this. "It's the best thing I've ever tasted - it has a strong flavour, it tastes of the sea, it's creamy, and I went back home thinking that I had to reproduce it in our own way, at home". The preparations are laborious because the sardine is cleaned twice, deboned, filleted and skinned. Three kilos of sardine are reduced to one and a half. "We use the rest of it to make stock, and so we use all of it", said the Scot. By way of a more European touch, the wasabi is replaced with mustard.

The presentation features a very thin potato wafer, topped by the fillet of sardine and mayonnaise. The chef then applies the stock, along with cream and milk.

If the first recipe set out to showcase textures, taste is the main attraction in the second. And here scallops are the best ally. Truffle purée on the plate (made from truffle oil and squid's ink), scallop, mandarin juice glaze, citrus grating and salt. It is garnished with diced toasted hazelnuts, scallop jelly and raw mushrooms.




Magazine