News
Guillaume Gomez: "If politics divides people, then good food brings them together"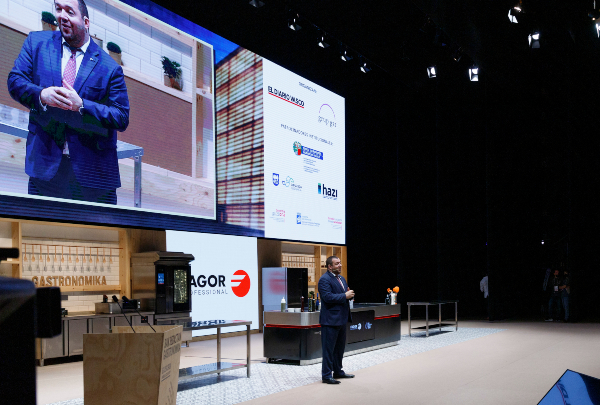 The chef of four French presidents –son of an emigrant from Andalusia- arrived at Gastronomika as an ambassador of French cuisine to build bridges but without giving away any intimate secrets. The presenter tried to press him for further details. "It's culinary diplomacy", the chef defended himself.
The ambassador of French cuisine, Guillaume Gomez, performed his function this morning at San Sebastian Gastronomika. The son of an Andalusian emigrant, without speaking any Spanish ("I didn't learn it when I was a child. I swear that next year I'll speak it better", he acknowledged) and wearing a blazer, Gomez exercised the function that President Macron had entrusted him with after 25 years as a chef at the Élysée. "What I did when I was the chef at the Élysée (he was the personal chef of four presidents: Jacques Chirac, François Hollande, Nicolas Sarkozy and Emmanuel Macron) and what I do now as ambassador for French cuisine is called culinary diplomacy", he explained.

"Because cooking is really important in France, and I just want to show my country from this perspective, and build bridges with everybody based on food". Because he affirmed: "if politics divides people, then good food brings them together.

As for the gastronomic relationship between France and Spain, that he himself is a good example of, Gomez stated "that it is very strong. Many chefs from one or the other country train in the other, because basically we share values like the defence and expression of the territory".

The presenter, Mitxel Ezquiaga, pressed him to reveal some culinary secrets from the time that he had spent in the kitchens at the Élysée. "I won't say what tastes the presidents have. I can explain what I used to do to prepare the menu when heads of state visited. The menu always showed what France is –"the cooking at the Élysée is the showcase of French territory', he stressed-, but I tried to adapt it to the guest by talking beforehand with my counterpart and getting to know their tastes. In accordance with this, he submitted a proposal for the menu to the president". And he validated it, or didn't.

Magazine