News
María José López de Heredia, Golden Gueridón winner at San Sebastian Gastronomika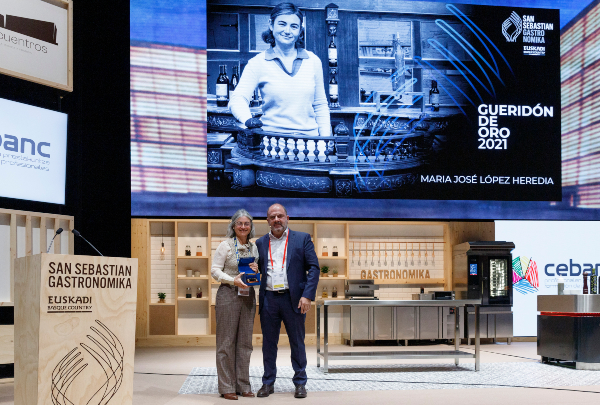 The owner of Bodegas López Heredia and winemaker María José López de Heredia receives the prize that Gastronomika awards to wine and dining professionals.
For more than 20 years López de Heredia has been running the historic La Rioja winery, which has been producing Viña Tondonia & Gravonia wines for almost 150 years.

"We want to recognise her career and the importance of winemakers in gastronomic catering with this Gueridón which for the first time goes to a wine producer", Benjamín Lana, director-general of Vocento Gastronomy, said to begin the Golden Geuridon award ceremony, the award with which San Sebastian Gastronomika – Euskadi Basque Country acknowledges the work of wine and dining professionals.

It was received by a thrilled María José López de Heredia (Haro, La Rioja, 1968), who is in charge of Bodegas López Heredia together with her brother and sister, Julio César and Mercedes, and is heir to a family wine-making tradition going back almost fifteen years. A tradition that, Lana explained , "has not changed the style that has made its Viña Tondonia wines famous for 144 years".

"I'm thrilled to be here. It's really exciting to receive this award as it's a year in which Gastronomika is looking towards France. What am I going to tell you about how important France is for the world of wine and the history of Rioja!", the award-winner explained. López de Heredia has taken over from Txomin Rekondo (Rekondo, San Sebastián), who won the award at Gastronomika 2020.

Magazine