News
Three French legends at Gastronomika 21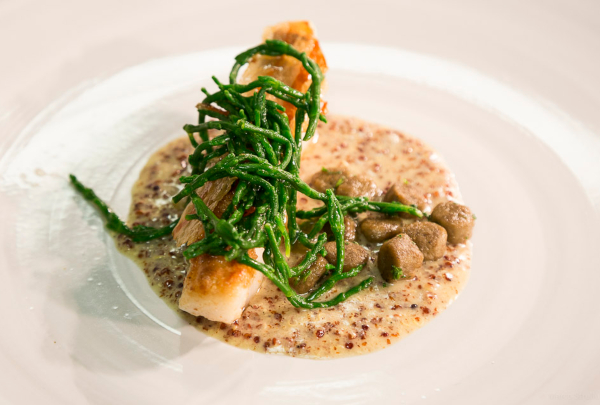 Pierre Gagnaire, Marc Veyrat and Alain Dutournier are three of the French culinary ambassadors who will be the professors at San Sebastián Gastronomika Euskadi Basque Country 2021.

Over 70 years old but still working and running their businesses, the three represent the power of French gastronomy, a force that has shone its light on the culinary world for years and is now back to light up the Kursaal just as it did in 2012, when France was also the guest destination at the San Sebastián congress.
Pierre Gagnaire. The personification of nouvelle cuisine
One of the leading representatives of
nouvelle cuisine
, perhaps the most creative and daring French chef, Pierre Gagnaire is a legend of world gastronomy, and one of the most influential chefs of the last 25 years. He was the first chef to approach cooking from the scientific perspective alongside his friend, physicist Hervé This, and for years the two worked on creating recipes by applying stringent mathematical formulae. A chef who personifies French
haute cuisine
, considered one of the world's 10 best chefs by the Le Chef magazine.
Born into a family of restauranteurs in 1950, by the age of 14 he was working in cakemaking, and aged 15 he went on a summer course with Paul Bocuse at his restaurant in Lyons. He went on to learn more with Jean Vignard (at his Chez Juliette restaurant, which had two Michelin stars at the time), discovered creative cookery alongside Alain Senderens, in 1976 he returned to the family restaurant Le Clos Fleury, and soon gained his first star.
It only took him five years on his home turf to decide to branch out on his own. This came about in 1981 with Aux Passementiers. After he had earned two stars, he opened another restaurant with his own name in 1992, and this earned him the third. Success, and also problems. In 1996 he was forced to close it down due to bankruptcy. On this subject, the chef himself remarks: "I would have lost my soul if I had stayed and adapted my work to the tastes of the bourgeoisie". He made changes and diversified the business: "In the 90s I was the hero of French cuisine and I went under, and when I went under I realised that money was the driving force behind everything, so I went into consultancy work".
He set up as a consultant and moved to Paris to expand. In the capital he opened the Pierre Gagnaire again at its current location: the building housing Hotel Balzac. In two years, his signature cuisine was again rewarded with the three Michelin stars, and so he has held the guide's maximum award for 28 years. Gagnaire also runs some twenty restaurants in London, Hong Kong, Tokyo, Seoul, Dubai, Las Vegas and Moscow.
Marc Veyrat, Michelin's enfant terrible
Famous for his cooking of wild herbs, flowers and plants, and his eternal black Savoie peasant's hat, Marc Veyrat is French gastronomy's enfant terrible. Recently in the news for taking Michelin to court after losing the third star at his La Maison des Bois restaurant (Manigod), he is one of France's most original, creative and famed chefs, and at one point held up to nine Michelin stars among various outlets. He also achieved a 20/20 rating in the Gault Millau, a first for the guide.
The son of a farmer, Veyrat is a self-made man who stuck to his roots and respect for the land and rural life. His cooking has always been natural and healthy by definition, the reflection of a landscape, a vindication of his humble origins and homage to the mountains of the Alps where he grew up. Many consider him a visionary, a daring genius and a giant of creativity. Others see him as an arrogant, impertinent chef, excessively rebellious and stubborn, far removed from French culinary traditions. The latter base their views on personal decisions such as the use of simple, natural ingredients such as roots or plants instead of milk, eggs or butter, the country's more typical produce.
His fame and ascendancy had been consolidated, but controversy broke in 2019 when he took the Michelin guide to court for taking away his third star. The chef demanded to be apprised of "the precise reasons" for this and the decision-making process which lost him the star, and went so far as to claim that the guide's inspectors had never even been to his restaurant. The French justice system ruled in favour of Michelin, specifying that the guide had no obligation to explain its reasons for awarding or taking away its stars.
Veyrat also now runs a chain of organic "fast food" restaurants all over France, known as Cozna Vera.
Alain Dutournier. The Cyrano of the ovens
Nicknamed the "Cyrano of the ovens", Alain Dutournier feels like a musketeer in his native Gascony. A year older than his colleagues (born in 1949, whereas Gagnaire and Veyrat were born in 1950), this Knight of France's Legion of Honour is a firm supporter of the formalist cookery of the disciples of Escoffier. Dutournier did not work in any major restaurants, and found his inspiration in the cuisine of this grand French master, and that of his mother and grandmother to become, as he defines it, a "collector of true taste".
Availing himself of a traditional logic far removed from fleeting fads, the chef has held stars for years in Paris at Au Trou Gascon*, which emerged in 1973 and is still open, and at Carré des Feuillants, a restaurant he opened in 1986 which earned him two stars, although the demolition of the building housing it forced him to close down that same year.
Dutournier is also an accomplished wine connoisseur, and was the first to introduce Jerez sherry to French cuisine, and Armagnac to Paris. Au Trou Gascon has an enviable wine cellar, as does the cellar he wants to refurbish on the ground floor of what was formerly Carré des Feuillants, as a "museum" of fine wines and old vintages.
Magazine