News
Meat and hot coals, the protagonists of the final session at Gastronomika 22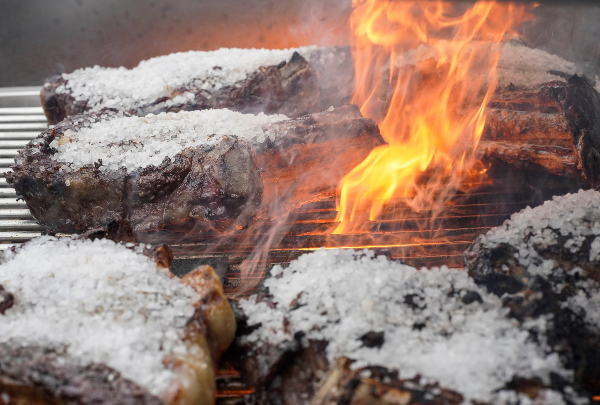 Andoni Luis Aduriz (Mugaritz**, Erenteria), Aitor Arregui (Elkano*, Getaria), Pablo Rivero (Don Julio, Buenos Aires) and Jon Ayala (Laia Erretegia, Hondarribia) happened to meet up at the final session of Gastronomika to talk about meat and fire.

Andoni Luis Aduriz and the end of fire

The chef from Mugaritz reflected on fire as a tool that he has based his new restaurant, Muka, on, and as an element "that has guided us throughout our lives". "But it's an element that is being lost," the Argentine writer Martín Caparrós mentioned, who Andoni Luis Aduriz had invited to take part online. "Fire has given us everything," Caparrós continued. We've always interacted with fire but now this is no longer the case. Fire is no longer the core space in rich countries. In our homes there is hardly any fire now. Or matches. Even cars are now electric. It now plays a nostalgic role in our lives. And this is a radical change. Perhaps fire only matters nowadays in good kitchens". Like the one at Muka.

And like the one at Elkano* (Getaria), the great grill house in Gipuzkoa, whose grill chef Aitor Arregui reviewed the inspiration for this tool and his restaurant. He was accompanied by Pablo Vicari, the chef at the Cataria restaurant, the premises that Arregi opened four years ago in Santi Petri (Cádiz) with which he transferred his know-how of grilling to another region.

The best grill chef in Argentina champions regenerative stockbreeding

"The Basque Country is the region that I've visited the most. Basque culinary culture is inspiring; it clings to its traditions. And this is what we do at Don Julio. Because in Argentina tradition is grilling. And grilling must now include sustainability and regeneration", so the grill chef at the most famous grill house in Buenos Aires, Don Julio, currently 14th in The World's 50 Best, focused on the concept of regenerative stockbreeding that he is launching in Argentina. "It's now up to our generation to preserve the future, to rebuild what we destroyed, and as far as meat is concerned, which is my thing, we can achieve something", a really committed Pablo Rivero explained. This was grilling in a holistic format, right from the very origins of meat.

Regenerative stockbreeding focuses on the animal and is based on the word "biomimicry", which tries to imitate what nature has always done. In this way, he explained, with regenerative stockbreeding "the cattle walk together, defecate and piss together, and turn the soil over with their hooves, regenerating it, capturing carbon, reducing flooding, improving their well-being, and improving the quality of their meat as well". What is needed to introduce this? "A commitment by stockbreeders, and for consumers to decide to opt for better-quality meat.

"Meat is being demonised, and this can't go on. Beef is the only food that captures more carbon that it emits. This is a fact. Animal protein has been what transformed humanity from monkeys into what we are. There are now a lot of problems with this, but the solution is biomimicry". In addition, he said in closing, "regenerative stockbreeding is more rentable".

The different muscles in a chop with Jon Ayala

Jon Ayala, chef at Laia Erretegia (Hondarribia) and champion of the National Grill Competition in 2015, completed the meat and grill foursome on this final day, and explained the various muscles in a chop, which in his case is always mature beef, such as the brisket ("the toughest and least tender, which is also used to make croquettes"), the flank and the heart. "We are the only restaurant that cooks and serves them separately, because we believe that is how it must be done. They're different". In addition, he added, this way of doing things "helps to highlight each part".

Ayala worked live with his chefs on a chop outside the Kursaal, and seasoned his talk with advice about grilling. Among others, he gave a tip about warming up the meat before placing it on the charcoal (in his case holm oak), "taking it out of the fridge in the morning and placing it above the grill before cooking it", or cutting off the external fat but not throwing it away, "because it can be used in pastry making".


Magazine