News
Alain Ducasse and Albert Adrià to present their new restaurant at San Sebastian Gastronomika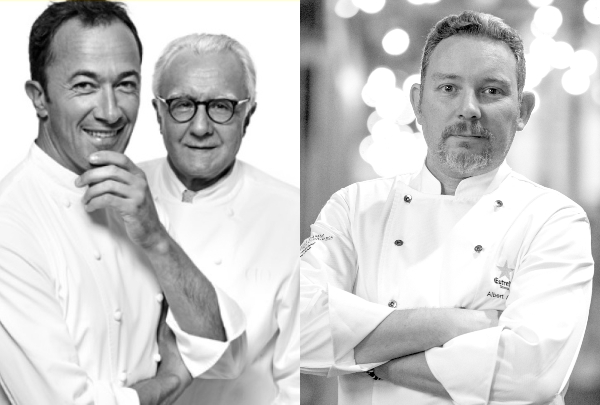 Alain Ducasse will be taking the congress's Homage Award "for everything he has symbolised and symbolises on the international gastronomy scene". The chef will make use of his talk in San Sebastián to provide details of the new restaurant he plans to open in Paris with Albert Adrià, who will also be on stage at the Kursaal.



In "Re-encounter" year, when the congress again welcomes France and its culinary formats, management at San Sebastian Gastronomika Euskadi Basque Country had no doubts about their unanimous choice of chef Alain Ducasse for the event's major homage award. He will be awarded the prize during the inauguration ceremony, after taking the stage alongside Albert Adrià to provide some details of what will shortly become the most exclusive restaurant in Paris, for a few months.

Because Ducasse, Romain Meder and Albert Adrià are about to open ADMO at the Quai Branly – Jacques Chirac Museum in Paris, built by Jean Nouvel. It is a temporary restaurant offering recipes by both chefs (and from both countries, like the congress), "haute gastronomie" in the same way as we talk about "haute coûture". The very best and most exclusive plates and glasses, superior service, but with the greatest respect for sustainability", said Ducasse recently.

The details of the project will be revealed at San Sebastian Gastronomika Euskadi Basque Country, before Ducasse takes the Homage Award - in the organisation's words - "not only for the man who has the most Michelin stars in the world (...) but also for everything he has symbolised and symbolises on the international gastronomy scene: the positioning of the Mediterranean, naturalness that is based on tradition but always forward-looking, and creativity - in short, a singular style that has inspired and continues to inspire subsequent generations".

Joan Roca, Pablo González and Frédéric Bau join Gastronomika 21

The inauguration ceremony and the Homage Award will signal the start of the world's oldest gastronomy congress in 2021, back from 14 to 17 November in an in situ format. It will focus on France, ushering in a new dialogue between cooking formats from both sides of the Pyrenees, 'Re-encounters'. This is the year of a re-encounter with San Sebastián after the pandemic, a re-encounter with participants in the congress, and also a re-encounter between two of the world's leading cuisines. The most transformational concepts, new up-and-coming chefs and grand masters from both sides of the border will be at the Kursaal.

On the French side, in addition to Ducasse, confirmation has now been received from Marc Veyrat (La Maison des Bois**), Pierre Gagnaire (Pierre Gagnaire***), Guillaume Gomez, Alexandre Mazzia (AM***), Nadia Sammut (La Fenière**), Beatriz González (Neva Cuisine), Amandine Chaignot (Pouliche), Alain Dutournier (Au Trou Gascon*) and Frédéric Bau (Maison Valrhona).

On the Spanish side, those already confirmed - Eneko Atxa, Ángel León, Pedro Subijana, Elena Arzak, Quique Dacosta, Jesús Sánchez, Paco Morales, Romain Fornell, Fran Martínez, the threesome from Disfrutar, Martín Berasategui, Josean Alija, Luis Valls, and Hilario Arbelaitz, have now been joined by Joan Roca (El Celler de Can Roca***), Pablo González (Cabaña Buenavista**), Chele González (Gallery by Chele), Jordi Butrón (Essence by Espai Sucre) and Arnau Bosch (Can Bosch*).

Magazine