News
Gastronomic gel providing protection against Covid-19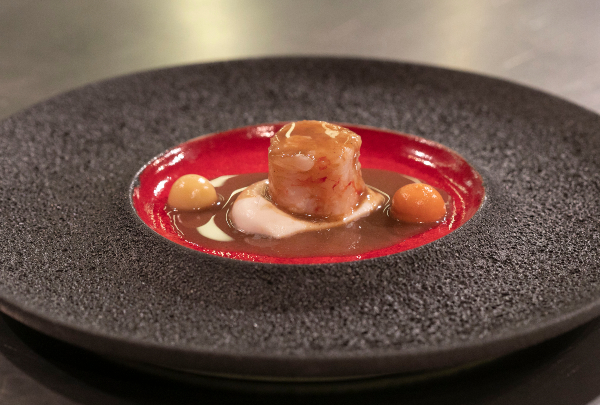 Diego Schattenhofer has presented a gastronomic gel that temporarily blocks the infection.

Diego Schattenhofer, executive chef at the restaurant, 1973 Taste, in Tenerife, has presented a study at San Sebastian Gastronomika – Euskadi Basque Country that aims to obtain a gastronomic gel that temporarily blocks the possibility of infection by Covid-19 in the oral cavity.
In collaboration with researchers from the Spanish National Research Council (CSIC), Schattenhofer has been working for the last few months on the gastronomic development of a product that can be introduced in a menu and contains the antibodies required to act as a prophylactic that provides protection against Covid-19.
The Argentine, who lives in the Canary Islands, explained that research started out in a study that shows that when a chicken is immunized it concentrates antibodies in its eggs. The antibodies that the animal is supplied with have been previously produced from certain proteins of the virus that are the ones that allow it to attach to human cells. As a result, if an immunised chicken's egg is used to prepare a gastronomic item, when this is ingested the antibodies will prevent the virus from attaching itself to the cells in the oral cavity, and to those in in the pharynx and the oesophagus. If the virus appears, these antibodies could surround it and drag it to the stomach where the gastric juices would then destroy it.
With regard to the preliminary stage of the study that he presented, Diego Schattenhofer was "enthusiastic and optimistic" about the possibilities for food safety that this would mean for the bar and restaurant sector in difficult times like those that it is currently going through. As the chef himself acknowledged, "science still needs to continue working" to develop all the characteristics of this discovery, however in parallel to this, gastronomy is already thinking about a way to make this gel into a gastronomic item that can be introduced and consumed during a menu. In this regard, Schattenhofer explained that they have prepared "compounds with the watery part of egg yolks with antibodies to work on this with gofio, for example".
There are still some uncertainties to be figured out, but the team working on this project estimates that the protection that ingesting this product would provide could last in saliva for about two hours. In the same way, the chef at 1973 Taste assured that a small amount –"between half a gram and a gram"- could be enough to achieve the desired effect.
Asked by the host of the talk, the journalist, Xavier Agulló, and the commentators and gastronomic journalists, Julia Pérez Lozano and Clara Pérez Villalón –who were in the main studio for this special San Sebastian Gastronomika – Euskadi Basque Country congress-, about when the new product would be marketable, the chef was cautious. "Let science do its work" he asked, and added that various working methods have been launched to possibly market this. "We'll need to see how the product is made. One option could be freeze-drying, to guarantee it can be preserved". Doubts that will be resolved as time goes by and the scientific certification processes and then marketing take place.
Recovering marine fauna on Tenerife
However, as well as this priority that he presented at San Sebastian Gastronomika – Euskadi Basque Country, Diego Schattenhofer also told us about an interesting line of work that aims to recover some forgotten or deliberately ignored species of marine fauna on the island in a presentation sponsored by Tenerife Council. This is the case with King crab or the Deep water shrimp. With help from fishermen from Puerto de los Cristianos, Schattenhofer and Gastrosinapsis (a multi-disciplinary team in which gastronomy works together with various branches of science) have managed to catch some of these species that the chef later cooked.
During the presentation, Diego prepared a dish of king crab and deep-water shrimp involtini accompanied by a side dish consisting of two traditional dishes from the Canary Islands: the "puchero" and "rancho canario" stews.
True to his aim to work with produce from the area and to recover some characteristic species, Schattenhofer also showed his version of Parrot fish, an iconic fish from Tenerife, and a dish prepared with native chickens fed with endemic herbs.
A commitment to tradition through science and research.

Magazine