Interview
Caterina Ceraudo: "We hope that the virus does not take away our hugs, which are so vital for us Italians"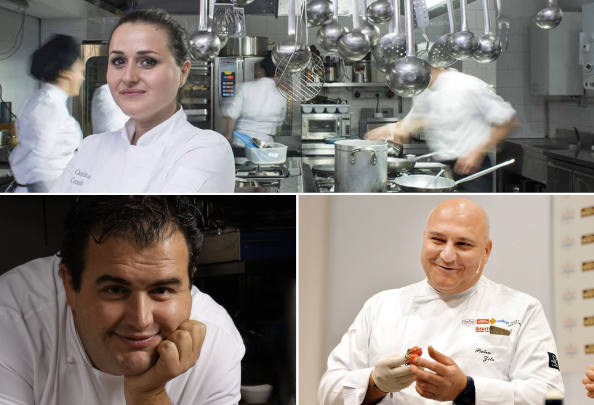 Gennaro Esposito, Caterina Ceraudo and Pietro Zito are three of the Italian chefs taking part in San Sebastian Gastronomika, three eminent transalpine chefs who will come to San Sebastian to cook and be part of the Italian-Spanish embrace that the conference is promoting.
Italy and Spain have been, and are, two of the countries that have been most affected by the scourge of the coronavirus and Gastronomika wants to build bridges to find ways out of it. We talked to them to find out how they have coped with the situation and how they see the future. Spoiler: they are optimists.

The three opened their premises days after the government lifted the state of alarm, "but only when we were clear on what safety measures were needed for both ourselves and our customers", explained Caterina Ceraudo, chef at Dattilo, a Michelin-starred restaurant in a small town in Calabria. At work, Gennaro Esposito, the legendary chef of the two-star Torre del Saracino, noted the response they got from the local clientèle: "Without foreigners, Italians reacted with enthusiasm. They adapted very well to the new circumstances and regulations, and filled the restaurant almost every day".

According to the chef, this happened because "quality restaurants have proven to be a safe haven for those who want to have a certain type of culinary experience and feel at ease at the same time. We must continue along this path", explained the man who once ran a restaurant in Ibiza (IT), although he qualified that by adding: "Maybe small towns like Vico Equense" - near Naples, where his restaurant is located - "have responded better than big cities, which are probably considered less safe. In some of the major tourist areas, it may have been possible to circumvent certain safety measures too easily".

Nevertheless, "the safety protocol we have implemented has been effective and has managed to attract customers". Pietro Zito, who runs Antichi Sappore in a small town in the Puglia region, is happy but admits to having played around with things: "Given that our customers have been locals, we have had to rethink what days we open and our opening hours.". A change in opening hours, but on offer, as Ceraudo noted: "We believe that our guests come here to savour our dishes and our cuisine. They did it before and they are doing the same now. The pandemic has not changed that".

There is a certain temerity, tinged with excitement about the new season ("if we start to get a bit of tourism - like we seem to get in Autumn in Italy - it will give us an important boost". Esposito, the chef at Dattilo, the best Italian chef in 2017 according to the Michelin Guide, predicts a future for the restaurant industry that will "coexist with the virus, paying closer attention to the rules but in the hope that this virus does not separate people too much. For us Italians, like for you, contact between people and even embraces have always been important".

"I am an optimist. The sector may once again be a driving force in the economy if it can focus on the quality on offer and not just on the cooking", explained Gennaro Esposito, the best Italian chef in 2011 for Identità Golose. "I see the future like after a war, like after a bad time. With a lot of enthusiasm, which we all need to have", said Zito, who continued his reflection: "Restaurants need to be reborn and adapted to the new world and its people. I just hope that all this helps the industry regain its simplicity, authenticity and respect".

These are the wishes of three chefs from our neighbouring country, wishes that will soon be heard at Gastronomika and which will be in line with those in practice in Spain, a country in which Esposito has confidence: "Spain has already demonstrated that it knows how to react to situations of this type, also asserting the quality of its offer in the restaurant sector. You will be able to find the resources to reboot and surprise everyone again. I'm sure of it".

Magazine