News
Cooking formats from both sides of the Pyrenees meet up again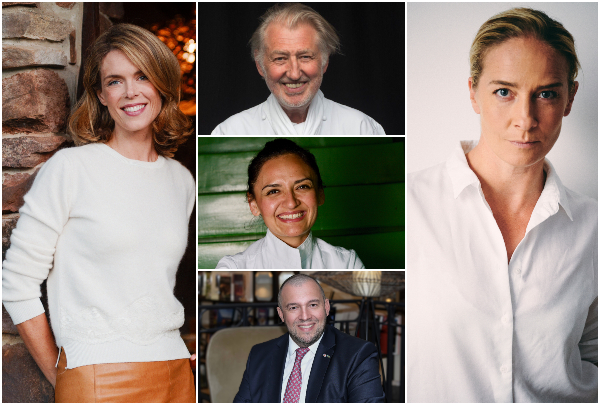 This year's edition will be the reunion of two of the world's great cuisines.
There is a long list of representatives of French gastronomy. One of the speakers already confirmed is Guillaume Gomez, chef at the Elysée Palace for the last 25 years and also ambassador of French cuisine, a title bestowed on him by French president Emmanuel Macron in February to showcase French culinary arts around the world. An unprecedented European post for someone who has cooked for three other French presidents: Jacques Chirac, François Hollande and Nicolas Sarkozy. The son of an Andalusian immigrant, by the age of barely 25 Guillaume Gomez had earned his MOF diploma as one of France's "best workers", an essential requirement for the right to wear the colours of the French flag on a chef jacket. An honour attained by only twenty of the 400 applicants every year. He is also a UN ambassador to spread PGI awareness.

One of the world's best chefs, also well known in the media, Marc Veyrat, famous for his cooking of wild herbs, flowers and plants, and his eternal black Savoie peasant's hat, is back at Gastronomika. Veyrat, who went to the very first congress in 1999 to give a talk on foie gras, is one of France's most original, creative and famed chefs, and he runs Maison des Bois**. Twenty-three years later he will be back on stage at the congress, having also become the first chef to take the Michelin guide to court in 2019 for taking away one of his three stars, and he also held the guide responsible for the depression this caused him. The judges, however, did not uphold his claims.

Another of the veteran chefs in the list of representatives arriving in San Sebastián from France is Alain Dutournier, one of the grand masters of French cuisine, who has consolidated his work as one of the best artistes in the Parisian cookery theatre at Carré des Feuillants, one of the capital's most attractive establishments, a location with model service and classical cuisine, which nevertheless always features original details and surprises on every plate. Joel Robuchon said of him that "he reinvents the cuisine of his roots day after day, with the very best produce from his neck of the woods".

World icon

Pierre Gagnaire, one of the leading representatives of nouvelle cuisine, the most creative and daring of French chefs, will also be one of the speakers at Gastronomika 2021. A legend of world gastronomy, and the first chef to approach cooking from the scientific perspective alongside his friend, physicist Hervé This. Gagnaire seems, is and conveys the image of a great artist whose expressive language is composed of his cookery ingredients.

Alexandre Mazzia, another leading name in French cuisine, will also be at the Kursaal. Born in the Republic of Congo, he was not destined to become a great chef. A committed man bursting with vitality, for a long time he lived out his two passions: basketball and cooking. Drawn in to signature cuisine, he trained with grand masters such as cakemaker Pierre Hermé, Alain Passard, Michel Bras and Martin Berasategui, but most of all Pierre Gagnaire and Santi Santamaría, who taught him his affinity with the taste of the land. In 2010 he moved to the "Le Ventre de l'Architecte" restaurant at Hôtel Le Corbusier in Marseilles. In the spring of 2014 he opened AM by Alexandre Mazzia***, where he offers some extremely creative cuisine in a combination with the many spices he encountered in his early years in Congo, a restaurant which joined the select Michelin three-star club this year. In 2018 he also opened Pointe Noire (the name of his home town), a restaurant in Aix-en-Provence, as a combination of a bistrot, wine bar and tapas bar, which was renamed Niro in July 2020, and also Mess, a floating restaurant on the lightship Le Razzl, in L'Estaque.

Gastronomics with stars

Three of France's leading female chefs are also among the speakers at Gastronomika 2021. Beatriz González, a Mexican who emigrated to France aged 17 to study at the Bocuse Institute, and subsequently worked at some of the country's main Michelin-starred restaurants: La Belle Otero in Cannes, Pierre Orsi in Lyons, Senderens in Paris, and with Frédéric Robert at Grande Cascade in the Bois de Boulogne. Born into a family of restauranteurs on the Mexican island paradise of Cozumel, she makes a stand for bistronomic cuisine at her two Paris restaurants, Neva Cuisine and Coretta.

Simple, spontaneous, sincere cookery, with a particular focus on vegetables, is the hallmark of Amandine Chaignot, a chef who learnt in the kitchens of Alain Ducasse, Jean-Francois Piège, Yannick Alléno and Éric Frechon, who conveyed to her the passion and sensitivity she demonstrates in her cuisine, which features her French roots, but she also allows herself to be distracted by her surroundings. During the pandemic, Amandine Chaignot turned her Paris restaurant 'Pouliche' into a mini-market selling gourmet hampers featuring items by local producers.

And Nadia Sammut, a self-taught chef, the first female chef to secure a Michelin star with her innovative gluten-free restaurant, and one of the pioneers of the social economy in France, with the movement Cuisine Libre™ (Free Cuisine), which runs a campaign in support of healthy, environment-friendly food to help change the way we live, think and eat. A coeliac from a very early age, she grew up eating food prepared specially for her. She studied biochemistry before deciding to work as a chef at the age of 30 in order to address food intolerances.

Magazine